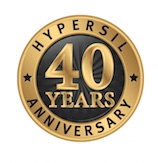 Join us in celebrating 40 years of Thermo Scientific™ Hypersil™ and receive a complimentary Hypersil column pen which will be mailed directly to you.*

PLUS!
Also receive access to the complimentary application notes listed below.
Food:
Non-targeted Screening and Accurate Mass Confirmation of 510 Pesticides on the High Resolution Exactive Benchtop LC/MS Orbitrap Mass Spectrometer
Determination of Bisphenol A in Infant Formula by Automated Sample Preparation and Liquid Chromatography-Mass Spectrometry
Environmental:
High Resolution LC-MS for Screening and Quantitative Analysis of Antibiotics in Drinking Water Using an Orbitrap and Online Sample Preparation
EPA Method 543 - Quantitation of Organic Pesticides in Drinking Water Using Online Pre-concentration/Solid Phase Extraction and Tandem Mass Spectrometry
Pharma:
Improved analysis of components of a cold remedy using a Thermo Scientific Hypersil GOLD HPLC column
Rapid analysis of analgesic tablets using a Thermo Scientific Hypersil GOLD HPLC column
Complete the form below to request your complimentary pen.
* Terms & Conditions: Celebrate 40 years of Hypersil promotional offer is valid between 1 July 2016 and 31 December 2016. The first 5000 individuals at least 21 years of age or older to submit their request online at http://info1.thermoscientific.com/Hypersil_Column_Pen will receive one (1) complimentary Hypersil 40 column pen and access to select application notes. Offer not available to government officials, government funded universities or agencies, healthcare professionals, healthcare practitioners or other individuals prohibited by their employment, contract, internal policies, industry standards or professional codes of conduct from accepting a gifts from Thermo Fisher Scientific. Limit: One pen per person. Pen will be mailed directly to the person at the address entered on the registration page. Not valid in connection with any other promotion, offer or discount. Offer may not be transferred or exchanged and has no cash value. Lost or damaged items will not be repaired or replaced. Offer valid in Asia, Africa, Europe, Middle East, South America, Latin America and North America; but excluding Quebec, Belgium, Italy, Finland, Sweden, Russia, Cuba, Syria, Iran, North Korea, Sudan and wherever prohibited by law. Thermo Fisher Scientific Inc., 81 Wyman Street, Waltham, MA 02451 U.S.A.