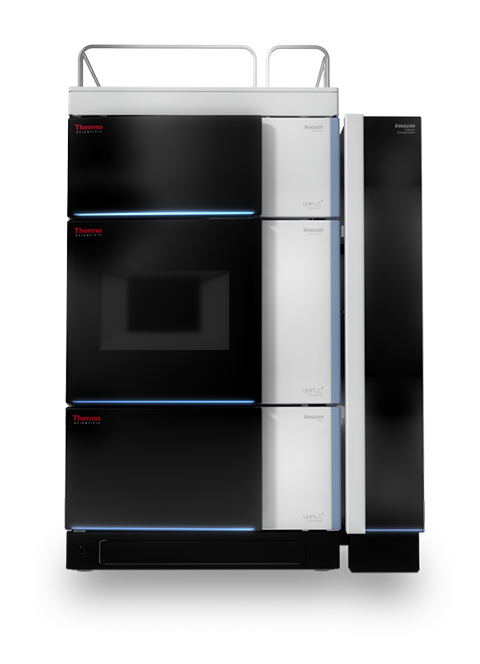 Optimize Your Biotherapeutic Protein & Peptide Chromatography
The world of biotherapeutic characterization is undergoing a revolution. Development of evermore complex protein-based therapeutics places rigorous demands on analytical technologies.
Scientists require powerful and flexible solutions to fully characterize biotherapeutic proteins.
Because of their innovative architecture, the Thermo Scientific™ Vanquish™ Flex UHPLC systems were engineered to build your drug pipeline, catering specifically for the demanding analytical requirements that these molecules impose.
Vanquish Flex UHPLC systems have been designed and manufactured to exacting engineering standards to be truly
"Built for Biopharma."
Download Brochure
Vanquish Flex UHPLC delivers CONFIDENCE, with a fully biocompatible flow path and proven compliance. Achieve unprecedented PERFORMANCE in retention time stability, sensitivity and separation efficiency with the widest range of column chemistries for biotherapeutic proteins. Demand VERSATILITY through seamless integration with market-leading mass spectrometry, fluorescence and charged aerosol detection. Gain operational SIMPLICITY with easy, freely available, one-click workflows via AppsLab and tool-free Thermo Scientific™ Viper™ fittings.
Protein Aggregate Analysis
Regulatory bodies typically impose a limit on the acceptable degree of protein aggregation that a biotherapeutic may exhibit, and therefore the confirmation of protein aggregate levels is vital throughout the drug development and production process. Our solutions for protein aggregation detection are rapid and reliable, giving you confidence in your ability to identify and separate higher order structures.
Contact Us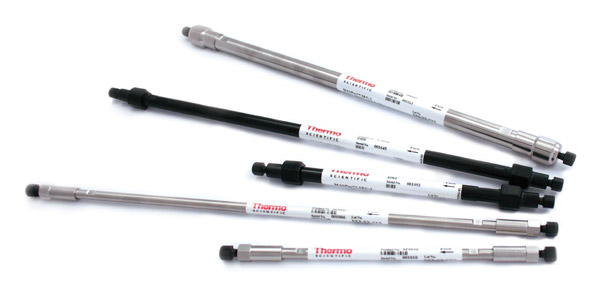 Dimers, trimers and further higher order structures affect clinical efficacy and must be characterized, typically by size exclusion chromatography (SEC).

Our recommended SEC column, MAbPac SEC-1, uses spherical, fully porous ultrapure silica, typically with a 5 µm particle size and multiple column lengths.

Vanquish Flex UHPLC provides high sensitivity, high resolution SEC under non-denaturing conditions and in high-salt mobile phases.

Compliant, simple, data management and reporting is performed using Thermo Scientific™ Chromeleon™ CDS.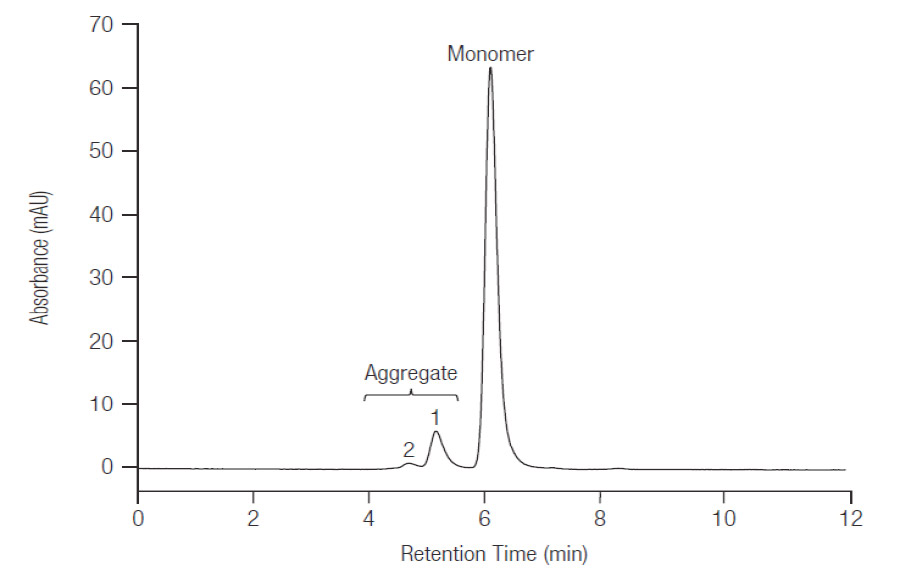 Baseline separation of trastuzumab monomer and oligomer with simultaneous detection of main compound and aggregates using MAbPac SEC.
Glycan Analysis
Even small changes in the type, composition or linkage of attached glycans can alter biotherapeutic efficacy, meaning that correct description is vital. We have a range of powerful and innovative chromatography solutions for released, labeled and non-labeled glycan analysis by HPLC and UHPLC.
Contact Us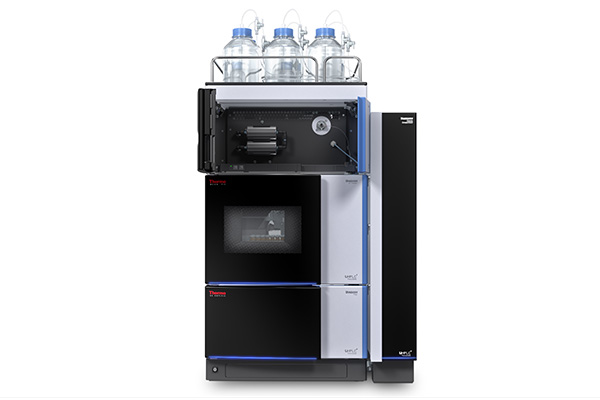 Multiple characterization techniques are possible; as free gycans, as glycopeptides, or as intact proteins.

Glycans can be labelled for easier detection, a typical example being fluorescence labelling for detection using a fluorescence detector (FLD).

GlycanPac columns have innovative mixed-mode surface chemistry, combining WAX and reversed phase or HILIC functionality for separation according to charge, size, and in the case of GlycanPac AXR-1, isomerism.

Vanquish Flex UHPLC system is fitted with a fluorescence detector, which is perfect for labelled glycans at the lowest concentrations. It also has a CAD detector, ideal for unlabelled glycans.

MS techniques for glycan proteins should ideally be high resolution accurate mass (HRAM) for maximum quantification and structural elucidation.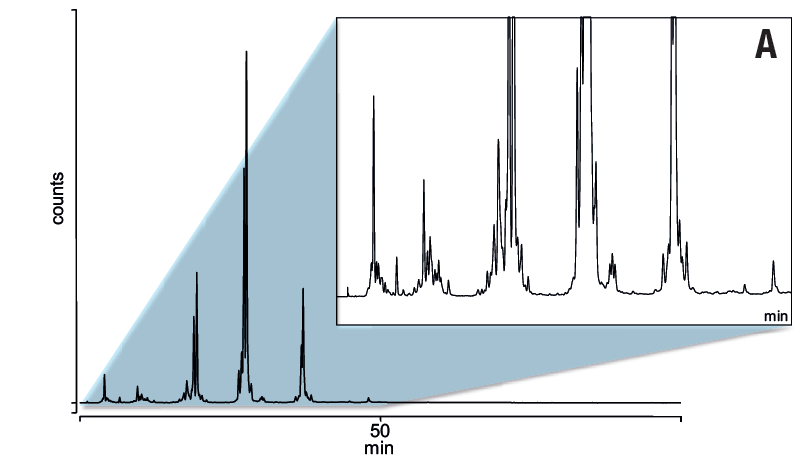 Six replicates of separation of N-glycans from fetuin using GlycanPac AXR-1 column.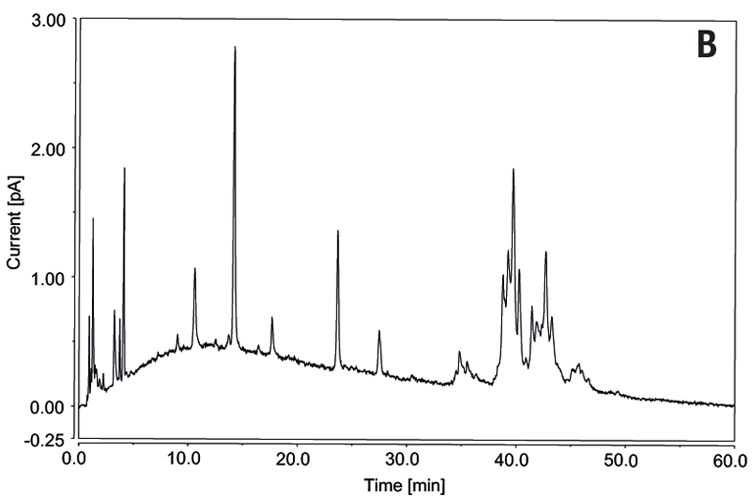 Fetuin O-linked native glycans analyzed by UHPLC-CAD using GlycanPac AXH-1.
Charge Variant Analysis
Protein charge homogeneity can have a significant effect on the structure, stability, binding affinity, and efficacy of a biotherapeutic drug. Ion exchange chromatography (IEX) is often used for protein charge variant profiling, either by salt gradient or more recently by pH gradient.
Contact Us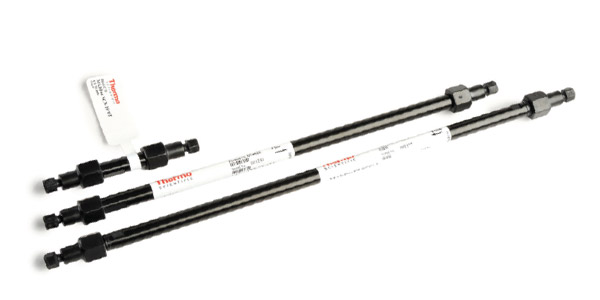 Antibody variants may have different charge states, meaning separation according to charge is required, usually by IEX.

Our dedicated buffer kits allow set up of pH gradients with ease.

MAbPac SCX-10 is a strong cation exchange column designed specifically for high-resolution separations of antibodies and associated variants by IEX.

Vanquish Flex UHPLC is ideal for routine, high throughput ion exchange chromatography with generic and steep gradients, being fast, robust and reliable and having twice the sample capacity of many UHPLC systems.

Compliant, simple, data management and reporting is performed using Thermo Scientific™ Chromeleon™ CDS.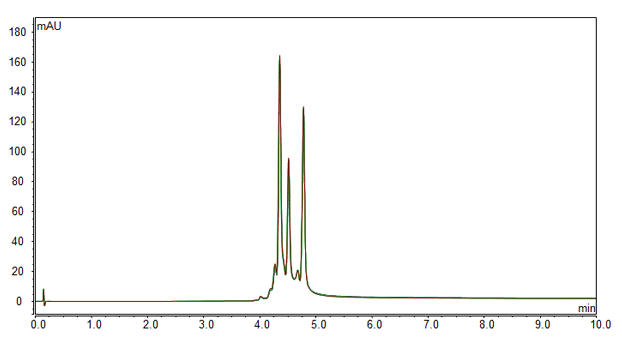 pH gradient ion exchange of monoclonal antibody (overlay of six runs).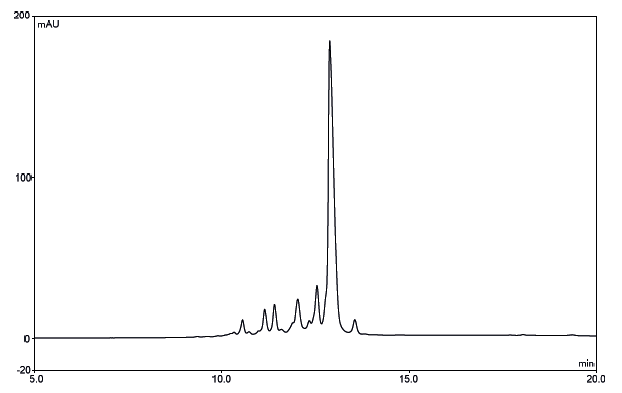 Optimized salt gradient for monitoring deamidation of ribonuclease with ProPac WCX.
Peptide Mapping
Peptide mapping protocols that detail the entire protein (100% sequence coverage) are required to prove molecular structure as well as determine post-translational modifications (PTMs). Complex protein digests require high peak capacity and high-resolution separations. Our peptide mapping workflow solution includes a fast, reproducible protein digestion protocol and powerful yet simple peptide mapping software, with Vanquish Flex UHPLC at its heart.
Contact Us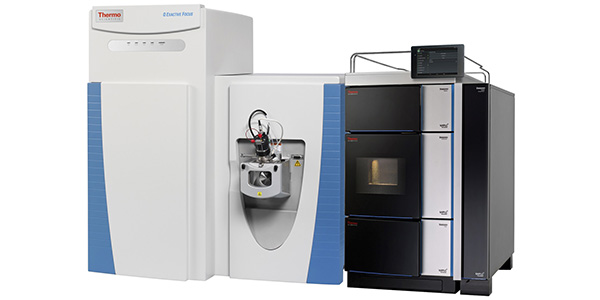 Prior to peptide mapping, proteins must be digested into their constituent peptides, typically using an enzyme.

Thermo Scientific™ SMART Digest™ kits are designed for biopharmaceutical applications that require highly reproducible, sensitive and fast analyses, with digests taking <60 minutes, for high-throughput routine workflows..

UV and MS detection are both widely used in peptide mapping. UV is often used in routine environments and is the workflow described here.

Thermo Scientific™ Acclaim™ VANQUISH™ C18 UHPLC Column is an excellent choice of column, it has an ultrapure silica substrate with extremely low metal content to minimize tailing effects and deliver the sharp, symmetrical peak shapes needed in this workflow.

Vanquish Flex has a very high pressure flow path and sample pressurization prior to injection to ensure high peak capacity, retention time stability and peak area precision, ideal for peptide mapping applications.

MS techniques for intact proteins should ideally be high resolution accurate mass (HRAM) for maximum quantification and structural elucidation.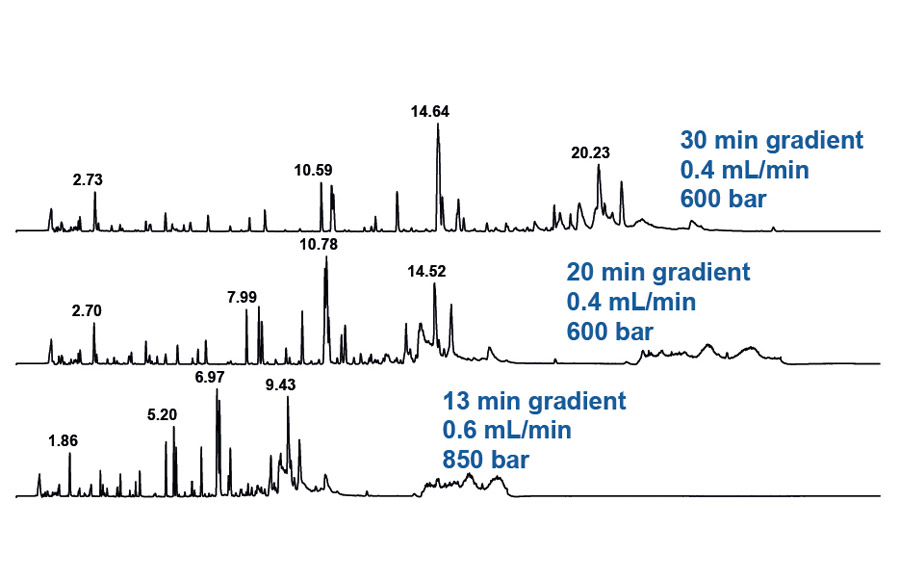 Total ion chromatograms obtained from peptide mapping experiments of rituximab applying gradient lengths of 30, 20 and 13 minutes.


MS/MS spectrum of the rituximab glycopeptide aa 290-302 (TKPREEQFN*STFR, *=G0) with the typical fragmentation pattern: the two oxonium ions 204 (HexNAc), 366 (Hex-Hex-NAc), and the sequence ladder of the fragmented glycan attached to the intact peptide.
Intact Mass Analysis
There remains a need to characterize biotherapeutic proteins in an intact form, particularly where there is likelihood of structural information such as isomerism that may not be observed by other techniques. It is also important in some of the novel biotherapeutic classes such as antibody drug conjugates (ADCs). Our range of Thermo Scientific™ MAbPac™ HIC columns are particularly well suited to the characterization of ADCs, allowing DAR determination in minutes.
Contact Us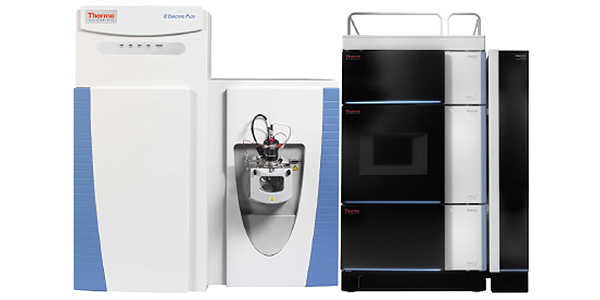 mAbs and ADCs require thorough characterization, including glycoforms, higher order structures and PTMs.

MAbPac™ RP is a new reversed phase column that uses a resin based on hydrophobic supermacroporous 4µm polymer particles. It is ideal for the efficient separation of protein molecules with very low carry over.

UHPLC is the most effective technique to ensure separation of higher order structures and unwanted interferents.

MS techniques for intact proteins should ideally be high resolution accurate mass (HRAM) for maximum quantification and structural elucidation.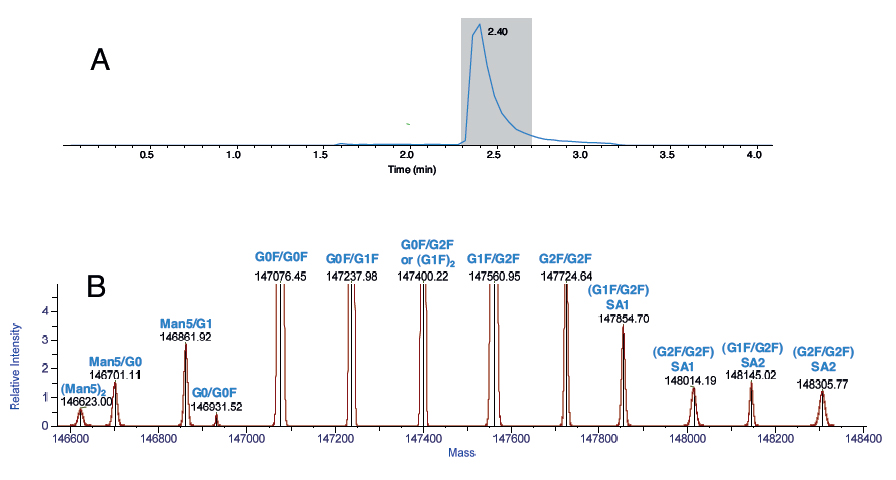 MS analysis of 100 ng of the mAb Rituximab, depicting (A) LC chromatogram using Thermo Scientific MSPac™ DS-10 Desalter Cartridge, and (B) the deconvoluted spectrum and annotated glycoforms.
Request a Vanquish™ Platform Demo
Want to see the platform in person? Register for a demo to see how the Vanquish UHPLC platform can help solve your toughest chromatographic challenges!